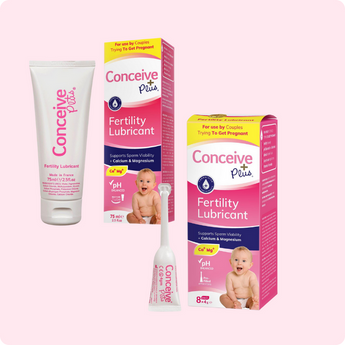 Duo Combo | Fertility Lubricant Bundle
75ml Tube + 8 Pre-Filled Applicators / 1 Month Supply
Regular price
Rs. 3,200.00
The unique formula helps to increase pleasure and relieve the negative effects of vaginal dryness. Making the 'trying to conceive' process even more enjoyable and exciting for you and your partner.
Fertility Lubricant 75ml Tube with 8x 4g 
Pre-Filled Fertility Lubricant Applicators.
🚛 FREE DELIVERY ORDERS +₹4,000
CONCEIVE PLUS® Fertility Lubricant is the right choice when you are ready for a baby! Designed for use by all couples who are trying to get pregnant.

Did You Know That Calcium And Magnesium Ions Are The Key To Success? These two nutrients help maintain sperm motility and sperm viability – so the sperm has a better chance of reaching and fertilizing the egg.

Conceive Plus is isotonic and pH balanced to mimic natural fertile fluids during ovulation. Conceive Plus is a FDA cleared fertility-friendly lubricant that is formulated to be isotonic and meet a pH range compatible with human sperm survival and migration. Conceive Plus is one of the sperm-safe lubricant that contains Calcium and Magnesium ions to support fertility and the process of conception.

✅ Supports Natural Fertility
✅ Optimal pH for Sperm Migration & Survival
✅ Vaginal Dryness Relief
✅ More Sperm-Friendly Vaginal Environment
✅ Calcium + Magnesium Ions for Enhanced Sperm Viability
✅ Trusted by Doctors, Pharmacists, Fertility Clinics Worldwide


Conceive Plus 2.5 fl.oz Tube:
Apply a teaspoon size amount prior to intercourse and re-apply as required during. For use by both him and her. Safe for daily use. Conceive Plus® Multi-use Tube may be used in conjunction with Conceive Plus® Pre-filled Applicators for intra-vaginal application.

Conceive Plus 8x Pre-Filled Applicators:
Remove applicator from box, do not use if tamper evident tab is broken. Hold applicator narrow end facing upwards, twist off the tab and discard. Gently insert the narrow end of the applicator deep into the vagina and squeeze the bulb end 2-3 times to deposit Conceive Plus® into the vaginal cavity.

Remove while continuing to squeeze the bulb end and discard. Each applicator is for single use only and cannot be stored after opening or reused. May be applied 10-15 minutes prior to sexual activity to allow moisture to disperse throughout the vagina. Each applicator contains 4 grams of Conceive Plus®. We suggest using Conceive Plus® multi-use tube if additional moisture is required or use another applicator. Conceive Plus® Multi-use Tube may be used in conjunction with Conceive Plus® Pre-filled Applicators for intra-vaginal application.

Cautions:
Not a contraceptive. Conceive Plus does not harm sperm or interfere with sperm function. Conceive Plus is pH and electrolyte balanced to imitate the body's own natural fluids when applied intra-vaginally.

Denoized water, Hypromellose, Sodium Cloride, Glycerol, Sodium Phosphate, Disodium Phosphate, Methylparaben, Potassium Cloride, Magnesium Chloride, Calcium Cloride
Total 5 star reviews: 1
Total 4 star reviews: 0
Total 3 star reviews: 0
Total 2 star reviews: 0
Total 1 star reviews: 0
100%
would recommend this product
LR

Super eficientes

Ainda não posso falar sobre o efeitos de gravidez. Comecei a tomar o mês passado e já terminei os comprimidos de ajuda a fertility. Tenho estado a usar também os dois lubrificantes e acho ótimos. Não tive nenhum efeito contrário. Os lubrificantes dão uma apimentada na hora H com o parceiro, a sensação é maravilhosa. Já fiz a segunda compra dos lubrificantes para usar esse mês. Estou esperançosa. Aguardando pela chegada do meu milagre(filho). Vamos na fé que o resto Deus cuida 🙏. Obrigada a Conceive Plus por fazer chegar o meu pedido tão rápido nas duas vezes que encomendei. Qualquer coisa volto aqui para dar notícia. Boa sorte para todas a tentantes.
Reviews Loaded
Reviews Added